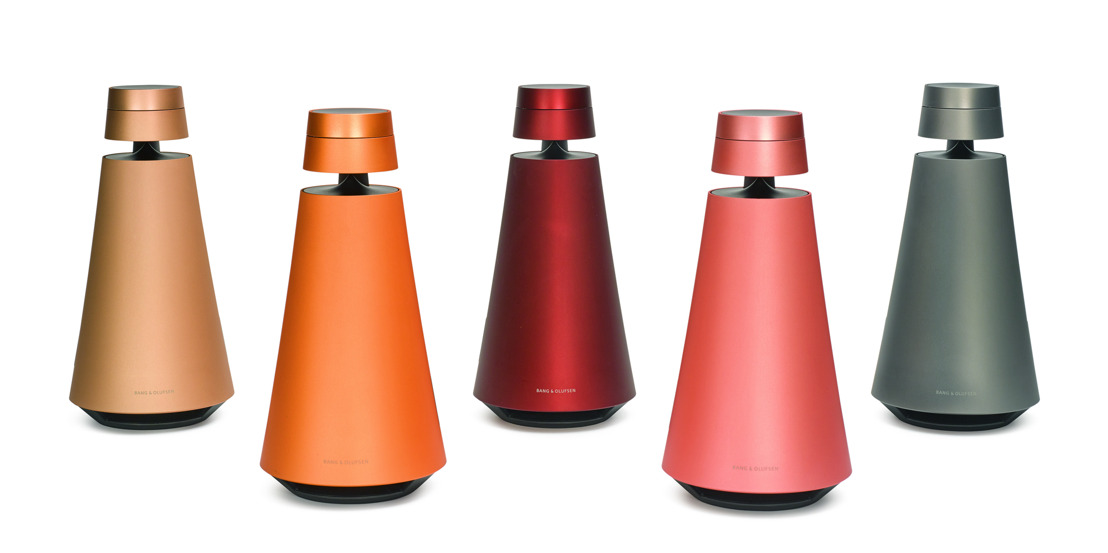 Bang & Olufsen presenteert vijf unieke draadloze BeoSound 1 speakers in uitzonderlijke kleuren, uitsluitend verkrijgbaar via Sotheby's
De vijf BeoSound 1 speakers in unieke handgemaakte kleuren zullen vanaf 5 Juli verkrijgbaar zijn, enkel en alleen via Sotheby's.
Woensdag 4 juli 2018 — Bang & Olufsen—paragon of excellence in design, craftsmanship, and sound—announced today that it will be selling at auction five one-of-a-kind colors of its iconic BeoSound 1 wireless speaker, starting July 5.
These unique colors were originally produced for the public launch of BeoSound 1 in autumn 2016. They were designed to illustrate the unparalleled capabilities of Bang & Olufsen's renowned aluminium factory, which has sat at the forefront of aluminium technology for more than half a century. To create each color, the aluminium bodies were anodized and dyed one at a time—a process that required a day-long takeover of Bang & Olufsen's anodizing plant. Each of the five BeoSound 1 has been engraved "1/1," signifying its uniqueness, and they will be available for sale through an exclusive arrangement with Sotheby's.
"Sotheby's represents the height of luxury and sophistication, and we would be hard pressed to find a more suitable venue for the sale of these one-of-a-kind products," says John Mollanger, Bang & Olufsen's Executive Vice President of Brand and Markets.
Bang & Olufsen and Sotheby's are partnering to celebrate the art of design. Both companies share a passion for extraordinary objects, and a commitment to conveying their appreciation and expertise with the widest possible audience. Those shared priorities make Bang & Olufsen and Sotheby's natural partners to explore the world of design together.
"We're thrilled to partner with Bang & Olufsen on this carefully curated capsule collection that will be offered for auction. It's a once in a lifetime opportunity for Bang & Olufsen enthusiasts and art collectors alike to acquire a sophisticated wireless speaker system that's also a unique work of art in its own right." says Josh Pullan, Sotheby's Senior Vice President and Global Head of eCommerce.
BeoSound 1
BeoSound 1 is a portable wireless speaker system, featuring a sophisticated 360-degree sound dispersion. Its distinctive design is characterized by a conical aluminium body, which appears to hover just above the surface on which it rests.
"Aluminium is a signature material of Bang & Olufsen and a natural choice for this type of product," says Torsten Valeur, designer of BeoSound 1. "Our goal was to create a uniform expression on the surface… When you look closer at the structures of the aluminium, you get the sense that this has been made by hand, almost formed like an instrument." In the end, these unique colors of BeoSound 1 represent the finest qualities of Bang & Olufsen's aluminium factory in Struer, Denmark.
BeoSound 1 is compatible with all of the leading wireless technologies, including Chromecast built-in for audio, AirPlay, Bluetooth, Spotify Connect, and DLNA. It can function as a stand-alone speaker, or it can be integrated into a full-home distributed audio system using BeoLink Multiroom technology.
Sotheby's
Sotheby's online-only sales cover a variety of artworks and objects, ranging from Prints and Multiples, Paintings and Photography, to capsule collections. All auctions are curated by Sotheby's team of experts to be accessible to a wide audience. Read more here about how to patriciate in Sotheby's online sales.
The BeoSound 1 auction preview is now live on Sotheby's website. The five lots open for bidding at 5:00 PM CEST on July 5. The auction runs through July 18 at 5:00 PM CEST.
One of the five BeoSound 1 will be on display for the duration of the auction at Bang & Olufsen's Madison Avenue showroom in New York. It will feature a Sotheby's lot card, complete with instructions on how to bid.
Contact
Payton Wang, Senior Account Director, Purple PR
Email: payton.wang@purplepr.com
Phone: 646-710-3163
View
To see one of the five limited edition BeoSound 1 on display, visit
Bang & Olufsen Madison Avenue
600 Madison Ave, No. 104
New York, NY 10022
Additional Information
For additional information about the BeoSound 1: www.bang-olufsen.com/beosound-1
For additional information about Bang & Olufsen: www.bang-olufsen.com
Share
#bangolufsen
#beosound1
#sothebys
Social Media
Connect on Facebook: /bangolufsen
Connect on Instagram: @bangolufsen
Chromecast built-in for Audio is a trademark of Google, Inc.
AirPlay is a trademark of Apple Inc., registered in the U.S. and other countries.