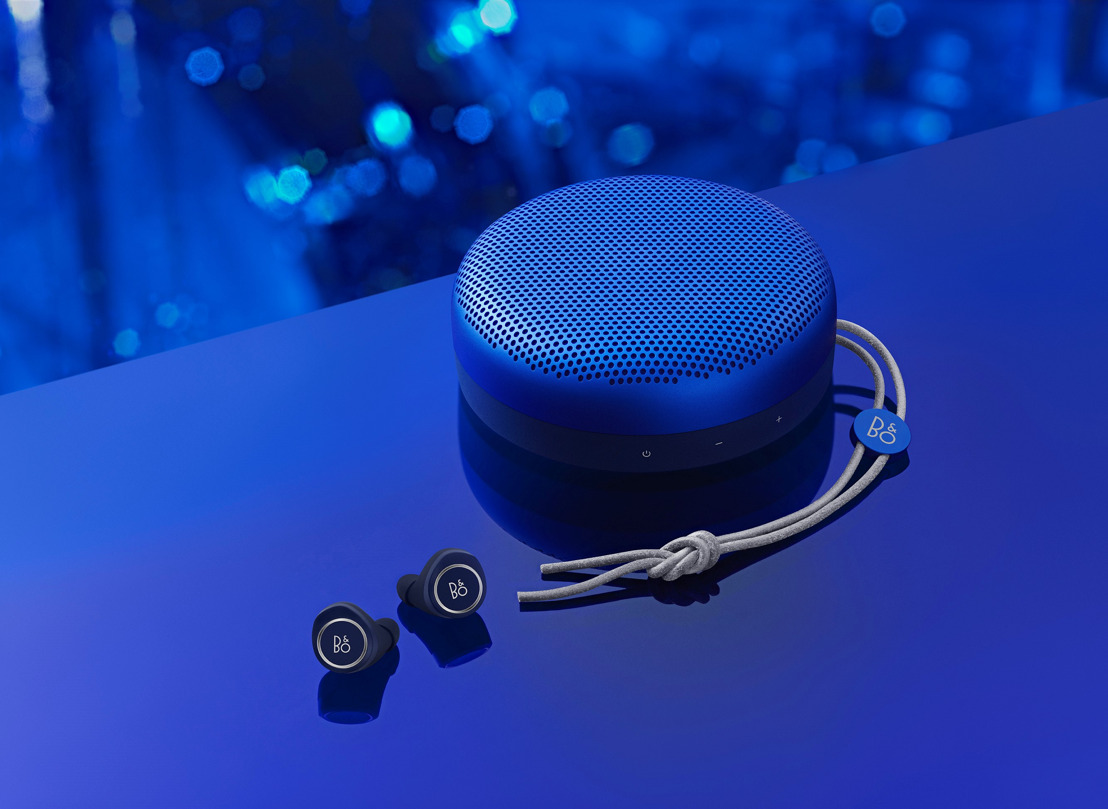 Bang & Olufsen danst op het ritme van New York City met een Late Night Blue Special Edition
Donderdag 6 december 2018 — Geïnspireerd door de New Yorkse soundtracks en bruisende energie, lanceert Bang & Olufsen deze speciale editie waarbij de Beoplay A1 en Beoplay E8 in een betoverend nachtblauw jasje gestoken worden. Een kleur geïnspireerd door jazz, muziekclubs en de knipperende neonreclames van de achterbuurten van New York.

Wil u graag de ongeëvenaarde kwaliteit in het strakke design van de Beoplay E8 Midnight Blue zelf testen? Contacteer dan melissa@upr-corporate.be
Bang & Olufsen gets into the rhythm of New York City with a Late Night Blue Special Edition
Since the early 1930s, New York City has been the epicentre of jazz, the venue of legends and aspiring talents, the epitome of swing, stride or bebop sound. From the conspicuous musical theatres on Broadway or the late-night clubs of Harlem, to speakeasies or subway stations, this heady metropolis has been a place saturated by the unmistakable sound of eclectic tracks and shuffle beats.

Inspired by this soundtrack and vibrant energy, Bang & Olufsen is introducing a special edition of Beoplay A1 and Beoplay E8 in stunning Late Night Blue, a colour inspired by jazz, music clubs, and the flashing neon signs of the backstreets of New York City.
With category-breaking performance and a crisp and rich Bang & Olufsen Signature Sound experience despite its small footprint, Beoplay A1 is an ultra-portable Bluetooth speaker ideal for those who care about great design and sound on the go. Delivering up to 24 hours of play time from a single battery charge and featuring calls and voice interaction, Beoplay A1 Late Night Blue comes in a splash and dust-resistant design with authentic, premium materials including anodized aluminium and leather.
Ergonomically engineered to fit comfortably into your ears, Beoplay E8 delivers industry-leading sound and a true wireless experience. The earphones are tuned by acclaimed Bang & Olufsen sound engineers for a full-bodied and precise soundstage, and they come in a premium, genuine leather case. The Late Night Blue colour vibrantly highlights the design while underlining the anodized aluminium and leather details.
Beoplay E8 and Beoplay A1 Late Night Blue are part of the Special Edition Collection, a wider collection of colour variants, each with its own unique colour concept, and only available in very limited quantities.
Pricing and availability
Beoplay E8 and Beoplay A1 Late Night Blue Special Edition are available at www.bang-olufsen.com/late-night-blue, in selected Bang & Olufsen stores, as well as at selected retailers, starting December 6, 2018. The Beoplay E8 earphones come with a premium leather charging case, five eartips and a charging cable. Beoplay E8 Late Night Blue retails for EUR 299 / USD 299 / GBP 269, while Beoplay A1 Late Night Blue retails for EUR 249 / USD 249 / GBP 229.

Information, social channels and images:
Follow the conversation at @bangolufsen on Instagram, Facebook, Twitter and YouTube using #BeoLateNightBlue
Download high resolution images on www.flickr.com/photos/beoplay